Television
As Seen On TV!
(Almost… LOL)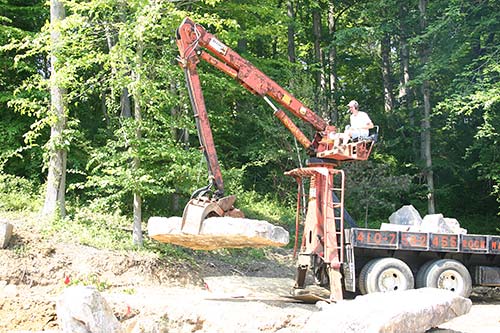 Since 1989, CLD built a reputation throughout the Maryland landscape community and gained national attention in the nineties for artistic swimming pools, water features and creative rockscaping. In 2010 CLD was approached by a cable network to star in a reality series to design and install waterfront landscaping projects including custom lagoon swimming pools, lake front rockscapes and waterfalls, and other large scale landscaping projects up and down the east coast. Mostly projects that would entail the usage of large boulders, cranes, and extensive design work.
Although the idea was intriguing, CLD president Joe Cramer was not able to commit to the proposed schedule along with the demanding travel requirements and had to decline. He chose to continue with his artistic design/builds in Maryland, Virginia, and Delaware and was committed to staying local to be with his family. The Network did not further pursue the idea (to our knowledge).
More recently, CLD has gained a reputation for artistic 3D landscape and swimming pool design…, in particular, for our first 3D design which was a large residential landscape construction project in Potomac Maryland.
The project includes a formal swimming pool which blends (via a lazy river) into a natural lagoon pool with a rock diving cliff, sunken water slide, natural stone steps, sunken patio set in a central island within the lazy river…, bath house, elevator, custom outdoor kitchen, many hardscapes, upper decks, fireplaces, waterfalls, pergolas, arbors, landscaping, lighting and more.
The challenge was meeting the clients desires: Installing a lagoon style pool with lazy river at a white brick French Normandy style home (square peg/round hole).
(See 3D Video Tour Above to tour the entire project) (Make sure to turn on you HD settings in Youtube for better clarity!)