About Creative Land Design
As one of many landscape Contractors in Maryland, we recognize the desire for homeowners and developers to have one landscaping company provide a complete package of services. From the initial landscape design, to the last detail of construction, Creative Land Design, Inc. is the only landscape contractor you will need to complete your entire landscaping project.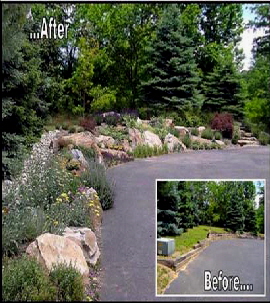 For twenty years, Creative Land Design has been recognized as a premier landscaping company in Maryland. CLD is a professional landscape company specializing in unique and artistic services. Joe Cramer, president of CLD, opened the doors in 1989 with several goals in mind. First, he wanted to provide magazine quality landscape services.
Secondly, he desired to be "the" company that provided the entire package from design to completion, and to be personally involved in every step of the process. Lastly he longed to use his studies in Landscape Design and management at the University of MD, and his in depth study of Japanese gardens to create his own style of Maryland landscaping. This exclusive style has become the CLD finger print.
You can tell a Creative Land Design project at first glance. Whether it be the creative use of boulders in naturalized rock gardens, or the use of water features such as ponds, water gardens, and waterfalls that are almost impossible to know as man made.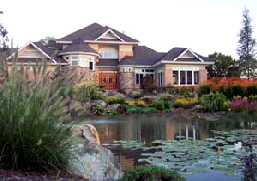 Immediately a passer by would notice one of CLD's exclusive green walls, our Maryland rock retaining walls. These walls are designed with plant pockets filled with rock garden plants, creating an environmentally sound, structural yet aesthetic retaining wall that becomes the focal point of the landscape as opposed to something to hide.
If one were to venture into the back yard, one might find one of CLD's custom natural swimming pools, often designed to look more like a pond then a pool; always designed to become part of the landscape and blend into it's surroundings as opposed to being it's own entity.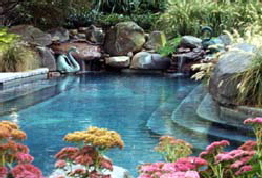 The pool would most likely be bordered or even part of one of our outdoor rooms, and surrounded by an exquisite rockscaping plan, with specimen plantings, and a possible stroll garden to pull the guest thru the design. A view from the pool might look over a beautiful one acre clay bottom pond, filled with native water lilies, graceful grasses, and striking iris's.
Whether you are looking for a Maryland Landscape Architect, landscaping contractor, retaining wall contractor , or a pondscaping specialist, or whether you are looking for a rock garden , an outdoor lighting plan, or environmental green spaces or anything in between, Creative Land Design offers all such services as a form of art, all wrapped up into one company, to provide you with the unique experience of going on vacation without ever having to leave the yard.
CLD is proud to serve all of eastern and central Maryland, including: Annapolis, Baltimore, Davidsonville, Maryland Eastern Shore, Anne Arundel County, Howard County , Baltimore County, Montgomery County, Harford County, Washington DC, and all other Maryland locations within 1 hour from the Bay Bridge.
[hardscapes] [Landscape Articles] [landscape Lighting] [Landscaping Pictures] [Maryland] [Maryland Landscape Design] [Maryland Retaining Walls] [Retaining Walls] [Swimming Pools] [Water Features] [Landscape Architect Maryland]